ANNUAL BUSINESS & YOUNG ENTREPRENEUR AWARDS BANQUET
CITGO * H E B
AEP TX FLINT HILLS RESOURCES Rep Abel Herrero
TEXAS A & M UNIVERSITY-CC IBC Bank
Senator Juan Chuy Hinojosa Gloria Hicks
PORT AUTHORITY CORPUS CHRISTI Rep Todd Hunter
Come join us as we continue celebrating and honoring high school S.T.E.M Students-OUR FUTURE LEADERS. This year the emphasis is on SCIENCE.
Our Keynote Speaker is one who has not been on this earth for a long period of time-(only 9 years old!) however, she is well accomplished in her field of Neuroscience and Public Speaking.
The event will kick off at 5pm with great sounds of Jazz n Cocktails.
TICKETS: Deadline--Nov 15th
*Individual Tickets: $50 per person. Please Note: Individual tickets purchased as a group cannot be guaranteed seats together.
SPONSORSHIPS
Please Note: Sponsor commitment must be received by November 1, 2019 to receive recognition in the program booklet. Call for details: 361. 877.3634
*Sponsorship #1: $1000/includes 10 tickets, 1 reserved table of 10 and a quarter page ad.
*Sponsorship #2: $600/includes 10 tickets, 1 reserved table of 10
SINGLE ADS in program booklet (color): FULL PAGE: $300; HALF PAGE: $150; QUARTER PAGE: $100. ADS DEADLINE: NOV 1, 2019; MUST BE CAMERA READY!
SEND TO: CCTXBLACKCHAMBEROC@GMAIL.COM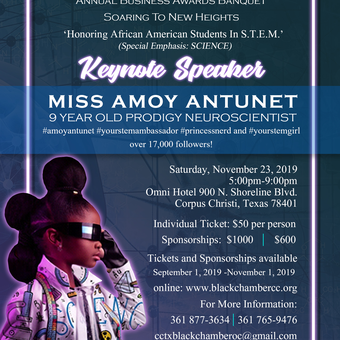 OMNI HOTEL 900 N Shoreline Blvd, Corpus Christi, TX 78401, USA